The CleverLoop Smart Home Security system is a wireless camera set up that gives you the ability to keep a check on your home and family when you're away anywhere in the world you can get internet access.
Cleverloop – Is it the WIFI camera for me?
A security system that has the advantage of having both indoor and outdoor cameras to be able to monitor your home or other premises inside and out. To provide the wireless capability the cameras are controlled by a device known as the base station which can control up to 4 cameras.
The base station enables much of the processing to be done locally which reduces data flow across your internet connection which is great for your bandwidth. This also means the company has a learning algorithm to improve detection of suspicious motion so you are only notified of important events.
There are no monthly fees or add on services – it is all included in the price.
In our review we look at how well it provides security for your family, home, other premises and valuable items by looking at everything in detail so you can see what is good and what you
Base Station
This is the brains of the system. It controls communication between the cameras and your smart device and processes the footage from the cameras for the smart detection according to the cameras with geo fencing and scheduling settings.
It also analyses all the footage and stores up 8 GB locally. More can be stored with a larger SD card and/or an external hard drive. This analysis and storage helps to protect privacy as well as reduce bandwidth usage. Only the events seen as important (based on the learning algorithm) are stored remotely online. They say this functionality is how they can offer this solution without a monthly fee as the processing is done locally and not over the internet.
Cameras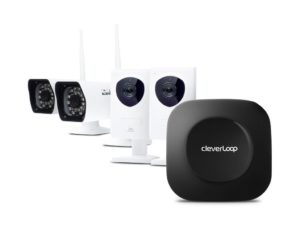 There are 2 types of cameras – indoor and outdoor and they do differ with some of their specifications.
Indoor camera
A 720p HD camera with a 110 degree field of view giving a good range to cover a room or area and if installed in a corner (but not as good as the Piper NV 180 degree range). It has night vision that switches over automatically to allow you to continue to get coverage. It allows for two way audio so you can have conversations with anyone at home or with your pets.
These are great for keeping an eye on the inside of the home, protecting areas where high value items are kept, entranceway.
Using the indoor camera through a window will run into problems with the infra-red LED reflecting off the window interfering with what the camera records. You can turn the LEDs off but you won't see much at night unless the area is well lit. The better option is to use an outdoor camera.
Outdoor camera
This 720p HD camera field of view of the camera is 60 degrees making this good to cover a defined areas such entrance ways or alongside a house, specific part of a car park or garden rather than large open spaces. The switch between day and night visions is automatic and fairly seamless. At night the length of vision is up to 65 ft with infra-red. It is weather proof.
These are great for watching your doors, garden paths and gates. At the front door as well as keeping a lookout for people trying break and enter they can be used to keep an eye on parcels and delivery men.
Both cameras provide a clear image during the day and as night – although at night it is black and white due to the infra-red vision.
The cameras do not pan, tilt or zoom nor is there a digital capability to do this.
If you want more than 4 cameras you need to buy additional base stations that can all be controlled by the one App. For a house or apartment 4 camera sis probably going to get your entrances covered and a 2 rooms with your most important items covered.
The video quality of both cameras is very clear during daytime and night vision. You can clearly see what is going on and see faces. There is little blurring.
Remote Monitoring
The App is easy to use and fairly intuitive. This is where you control the system and set it up how you want it to work.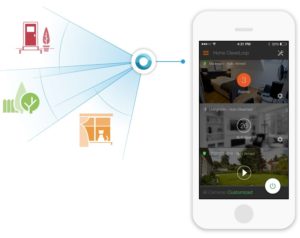 You can watch recorded clips, download them for safekeeping or share them with others. This is only available on Android and IOS devices. It can be done from anywhere you can get access to the internet.
You can only watch one camera's live feed at a time – 2 of you can watch live feeds at the same time. They are planning an update in the near future to allow you to watch 4 cameras at once.
While you are watching a live feed of one camera the motion detection continues to work on all cameras. This helps with the fact you can't watch all cameras at once if there is a security event is happening you are able to get a record of what is happening elsewhere.
There isn't a limit on the number of base stations and cameras you can add to your account. It means you can monitor your home, business premises and a vacation home all from the one App on your phone without having to switch between them. You just need to make sure you name them so you can identify them easily!
Notification
With the learning algorithm you should only receive a notification when an important event happens when there is an unauthorized human movement in your house when no one is expected to be there.
When an important movement is detected you receive a push notification on your phone that is announced by a quick buzz. From there you can view a quick 10 second video clip of the event. You can also be notified when the base station loses connection with the cameras.
You can set up others to receive notifications. They need to open their own account and then scan the QR code at the back of your base station (provided you've not changed the access code). You can have as many people as you want added to the base station. They do have the same access as the owner so can make any changes they want as well as receive notifications and monitor the system – so you do need to be careful as to who you give access too.
The system doesn't send out notifications when the system is turned on/off or when people arrive or leave home. It does mean you won't know when your children or other arrive home while you are at work. The system could also be turned off by mistake (or deliberately) without your knowledge when you want it live.
Sensors/Detection
One of the annoying things with motion sensors and alerts is that you can end up with many false alerts buzzing your phone during the day as it picks up your pet moving around or the wind moving trees or cars moving on the street.
Often the way to fix this is to turn down the sensitivity or to tell the camera to ignore movement in certain sectors.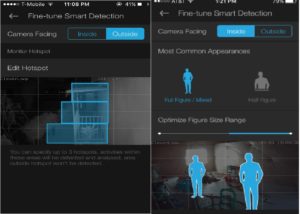 Cleverloop instead uses a learning algorithm to split the motion detected into two types: important, known as alarms and unimportant known as movements.
The movement is recorded for both types but only important events generate an alert to your mobile device.
Alarms are for motion seen as people who are in the field of view when the camera is armed and movements are for events such as pets moving around or trees moving or cars driving past.
When a motion is determined by the system as an alarm it sends a notification to your phone and records it locally and to the cloud (which can be disabled). It will continue to record the 10 second clips and notifications while the event continues – there is no period of reset as there can be with other security systems.
Recording starts at the same time movement is detected.
When it sees a movement (not important) no alert is sent to your phone and this is recorded locally only. This recording can still be viewed remotely with your phone.
You can help it to learn by letting it know it has done something wrong by pressing "Mark this is as movement" or "Mark this as an alarm." It needs this help to become more accurate with its "decision making." These improvement statements are found underneath the clips as appropriate.
As well as learning from what you tell the system it also learns from the anonymous feedback of other customers combined together which help it to get "smarter" to give less false alerts.
You reset the algorithm by pressing "Forget all learned patterns" which you probably only want to do if you move the camera to a new location.
Learning algorithms are new and can be subject to problems with them not actually "learning" and giving you false alerts anyway. However, there is no indication that CleverLoop is doing that but it will probably need "tweaking" by the company to get it right as well as your own feedback.
It doesn't have face recognition so it sees all people as people – so if you mark movement of family member as unimportant it will mark all movement by people as unimportant not just family members – to avoid this the geo fencing and scheduling can help reduce alerts.
The fact it doesn't totally ignore movements and stores them locally gives you more chances to provide more feedback which is great so if it does miss something important, such as someone breaking into your house you still have the video albeit it is recorded locally.
Most companies that have a learning algorithm do charge for this so at some stage they may find they need to charge a monthly fee to continue this service.
Video Storage
There are 3 ways you can store video.
In the cloud. It stores up to 7 days of motion clips with the clips deleted as they get to 7 days old. You can download any video stored in the cloud on to your phone so nothing important should be erased without you having a backup. There are no options for longer storage at present.

On SD Card. this stores all motion clips – important and other events as deemed by the learning algorithm.

External Hard Drive. This is the way to go if you want continuous storage and still get important motion clips stored in the cloud. You plug the hard drive into the USB slot on the base station. This storage starts to work as soon as you plug it in. A 1 Tb hard drive can record up to 45 days of one camera at 720p resolution.
There is a limitation on the use of the external hard drive. You can only record to it continuously when the camera is in stay disarmed or auto disarmed. When it is in stay armed or auto armed mode the continuous recording stops and only record important motion clips.
Another issue is that you can't view the external hard drive video using the App but have to disconnect it and connect to another computer to watch it.
Contract
There is no contract to sign, nor are there any fees to use the system or store video on the cloud.
Included in the purchase price, at no additional cost you get cloud storage, remote monitoring, software updates and the learning algorithm.
They don't offer any upgrades or additional services at this stage.
Alarms
There is no audible alarm at this time that may change in the future. Without an audible alarm an intruder will continue without know they've been detected – most burglaries only take minutes. A siren can disorient them momentarily plus most criminals don't like attention or the possibility that there might be noticed and leave quickly.
To help with this it is possible to install a DIY home security system that you manage yourself in the same way as you are doing with cameras. They don't interact with the cameras but can give you the opportunity to cover more entry points and also more rooms with a more economical solution.
When you receive a notification from the cameras after you can sound the alarm or if the security system notifies you can check with the camera if you can see what is happening before taking further action.
Wireless or Wired
The base station is plugged into the router but the cameras work wirelessly for communication. All the devices do need to be plugged in for power.
Installation
To set up the system you need spare ports on your WiFi router 2.4 GHZ, a mobile device (Android 4.1 above and/or IOS 6.0) a power supply with 27.5 ins of where you are installing the base station.
The setup of the system is straightforward – it takes a few minutes after plugging in and connecting the base station to your router, downloading the App and activating your account.
You follow along to a video and you are soon up and running.
It does also involve plugging in the cameras to the router initially to get them set up before they work with the WiFi
The cameras can be set anywhere you can get a WiFI signal and have a power supply to plug into within 9.8 ft (you can extend this with a power extender).
Indoors this is probably not an issue but outdoors you may run into issues with having to run power to them or running the cord through the wall or eaves into the attic.
The mounting hardware needed for installing the cameras is included in the box.
Battery
Batteries are not required for the system as all components require to be plugged in for power.
Setting the Cameras
The system can be set/armed/disarmed in a number of ways by doing this with the phone or by setting up scheduling or using geo location.
To arm/disarm with your phone you use the App to do this and it is straightforward to do.
The scheduling is where you set when the system is armed for recording and disarmed based on you and your family's lifestyle so you don't need to remember to arm/disarm as you leave.
Geo fencing uses your phone's location which can help in ensuring the cameras are on when you're not there and turn off when you get home. It works with your smart device and others that are assigned to it. When the last device leaves the cameras will be set to record when motion is detected, and when a device returns they can be set to turn off. In this way it can avoid the problem that could happen if someone forgets to turn on the system when they leave. Your phone does need to be turned on and you are logged into the App.
Each base station supports up to 3 indoor/outdoor cameras, to control more cameras you need to buy another base station.
At the back of the base station is where you plug in the power, the USB port for video storage, Ethernet cable for connecting to the WiFi router and SD card slot for video storage.
Pros
Indoor and outdoor cameras are available
Can monitor remotely using IOS and Android devices
Multiple choices for storage of video – cloud, SD Card or external hard drive
No monthly fees payable or contract to sign
Learning algorithm will help to cut down on the number of false alerts to your phone
Sends notifications to your phone when important motion is detected
No cabling needs to be laid to connect cameras to base station
Cameras and base station allowing them to be take with you when you move house
The App is easy to navigate around to get to live feed and reviewing recorded events
Easy to set up
Is expandable with purchase of base stations
Multiple locations can be controlled by one App
Easy to add as many people as you want to monitor and receive notifications
Can use scheduling and geo fencing to automate arming/disarming the system
Can choose where to record video locally or remotely on supplier's servers
Recording starts, and notifications are sent immediately when a security event is detected and this continues until movement stops being detected
Cons
Limited to only 4 cameras per base station. You need to buy additional base stations as well as cameras if you want more.
Not compatible nor able to integrate with other smart home devices
There is no battery backup for use in the event of a power outage.
When there is a power outage the system stops working
No audible alarm when motion detected
Cameras need to be installed with an available power supply which may limit where you can place them outdoors
Can only have continuous recording to USB flash drive or hard drive when in disarmed mode
Only records a 10 second video clip when set to motion record
Cameras do not pan/tilt/zoom (nor digitally)
CleverLoop Smart Home Security System Price
The 4 cameras can be configured how you want as a mix of indoor or outdoor cameras or all the same.
When looking at similar cameras – such as the Nest Cam Security Camera which doesn't have a learning algorithm but does have more environmental sensors, 1080 HD, 130 degree field of view and integrates with Nest. You are required to pay a monthly fee to access video storage. The pricing for the CleverLoop is similar and for 4 cameras is better by about £60.00.
The 4 camera system can be used for a house and a business – it can probably cover two entrances and your backyard or a car park but isn't going to give you complete coverage. This can be enough for an apartment.
For a home as a minimum there are four areas you probably want to cover with cameras are the front door, back door, off street windows.
Also you probably want to cover areas that have items of high value such as a master bedroom (or at least in the access to the bedrooms) and garage.
The 4 cameras can give you coverage over the backdoor and front door and one other important area (indoors or outdoors) to give you coverage of the places criminals target first for entry and looking for valuable items.
You can add the additional cameras if you want to provide more coverage but you do need to buy a base station when you want more than 3.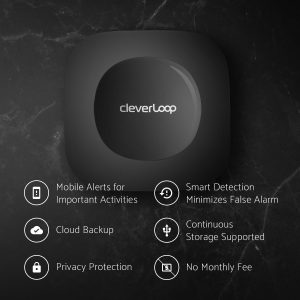 Review Summary
CleverLoop as a home monitoring system does a very good job.
There are some areas of concern with the lack of back up (seems to be an issue with most systems), that everyone added to the system has the same rights to make changes to the system, you have to buy a base station every time you want to add more than 4 cameras.
The camera themselves provide a good clear image of what is happening and who is doing it. It does make it very easy to keep an eye on your home through notifications and live feeds.
The Cleverloop passes our tests and is right up there with the best of the WIFI Camera's out there.